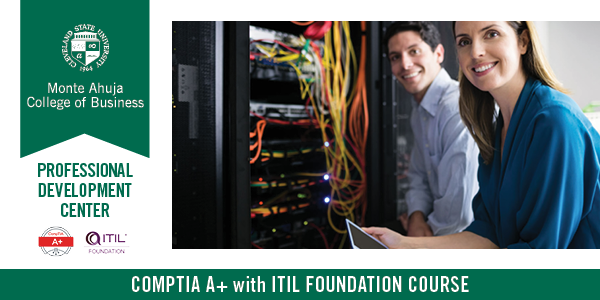 Course Description:
The Computing Technology Industry Association (CompTIA) A+ certification is the gold standard credential for information technology (IT) support specialists. Combining software, hardware, and network support competencies, the CompTIA A+ designation signals professionalism in practical, hands-on IT support. The Information Technology Infrastructure Library (ITIL) Foundation provides baseline competencies in a set of best practices for delivering and managing IT services. This 100% online course will equip you with the knowledge and skills necessary to qualify for CompTIA A+ and ITIL Foundation certifications.
WHY IS ITIL IMPORTANT?
Many leading organizations have adopted the Information Technology Infrastructure Library (ITIL) framework for managing their IT assets and systems. The ITIL framework specifies a platform of services that standardize IT systems that can otherwise become chaotic and difficult to manage. ITIL helps organizations, especially large enterprises, align their IT resources with their overall strategies.
IS CERTIFICATION NECESSARY FOR ITIL?
Completing a certification such as ITIL Foundation identifies an IT Support Specialist as a professional who is committed to a strategic view of IT services. ITIL Foundation certification signals to employers and team members that a prospective employee has undergone an organized program of study and examination around the key principles of the ITIL framework.
Course Objectives:
CompTIA A+
Prepare to take and pass the CompTIA 220-1001 and 220-1002 certification exams

Understand basic PC hardware and its functions

Learn the installation, maintenance, and troubleshooting processes for most devices

Master the setup and installation of various operating systems

Learn how to manage desktop and mobile devices
ITIL Foundation
Prepare to take and pass the ITIL Foundation Certification exam

Learn how to provide technical support

Learn to successfully troubleshoot

Learn to provide excellent customer service

Gain communication skills

Learn about Microsoft Windows

Understand how IT services improve, transform, and grow a business or organization
Prerequisites:
There are no prerequisites to take this course. You should have a basic understanding of computer systems and networks.
Schedule:
This course is 100% online. Start Anytime.

​​​​​​​