Posted on August 1, 2014 at 12:06 PM, updated March 27, 2019 at 10:51 AM Print
With the financial assistance of CSU's Faculty Strategic Initiative Program and the Institute for the Study of Business Markets at Penn State, Professor Andrew Gross has undertaken a study of professional service sectors and professional occupations. He carried out an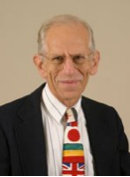 intensive literature review and then visited several national statistical agencies in 2012-2013 in USA, Canada, Australia, and Europe. These included the US Census Bureau, Statistics Canada, Australian Bureau of Statistics, the World Trade Organization, Eurostat, and the Organisation for Economic Cooperation and Development.
Professor Gross was published in Business Economics twice for his work. The flagship journal of the National Association of Business Economists, Gross' article on the global engineering consultancy sector was published in 2012 and his co-authored article on four professional service sectors (legal services, accounting/auditing, and management consulting. in addition to engineering) was published in 2013.
He continues the work by writing a monograph (which may potentially evolve into a book) on the worldwide engineering service sector. Professor Gross, by invitation, presented his findings in June 2013 at a seminar on professional sectors and occupations held at the Said Business School of Oxford University.