Posted on November 21, 2016 at 12:51 PM, updated November 21, 2016 at 1:12 PM Print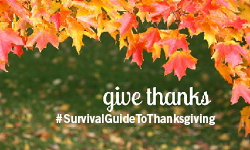 Are you in need of some holiday dinner icebreakers when the conversation gets awkward or tense this weekend? Don't worry - we need them too and have you covered! Here are few ideas to help you out:
"I'm studying abroad in May, fulfilling an elective and gaining international business experience!" Learn more and apply today here.
"I'm attending this Women in Business Today and Tomorrow event about Information Systems - and they have recruiters who will be at the College. Oh, by the way, it's not just for women!" Learn more and RSVP here.
"I'm sitting in on Dennis Medica's Fraud Examination class that is featuring General Counsel from Sherwin-Williams!" RSVP here.
"I'm going back to school for my MBA!" Attend an info session on Dec. 3rd and we will help you make good on this promise! RSVP here.
"I'm going to take a look at starting my own business - and I know just the program to help me out - Startup Vikes!" Learn more here.
"I'm thinking about adding a minor." Explore them here.
"I'm going to add to my experience with a continuing education course from the Professional Development Center." Learn more and find a course to talk about here.
"CSU was just named one of the top 20 online business schools." Learn more about this here.
And... just in case it gets really intense:
"I just remembered - the deadline for the AMA Scholarship is tonight at midnight! Please excuse me so I can finish my application!" Get the application and info here.  And then information for our other scholarships here.