Posted on March 31, 2016 at 3:53 PM, updated March 31, 2016 at 4:02 PM Print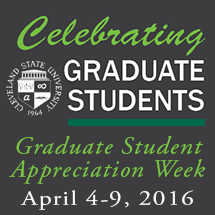 In honor of Graduate Student Appreciation Week, the College of Business Graduate Business Programs office will host a coffee hour on the third floor of the building outside of BU 327 (right off the Innerlink) from 5:00 PM to 6:00 PM. Get your caffeine fix before class and meet up with friends and classmates.
Mayor Frank Jackson, three-time Cleveland State University alumnus, has proclaimed April 4th through April 8th Graduate Student Appreciation Week in the city of Cleveland! Daily events are being planned to recognize and celebrate CSU graduate students and their significant contribution to CSU. Learn more from the Graduate Student Resource Center here.
While the Ahuja College Coffee Hour does not require registration, some events do - please check the complete list of events here.