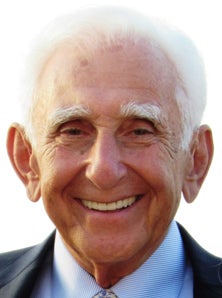 Anthony (Tony) Asher began his career working at a title agency while attending law school at Cleveland Marshall School of Law. While still enrolled as a student, he formed Guardian Title and Guaranty Agency with his father. Guardian Title subsequently grew to be one of the largest title agencies in Greater Cleveland. Mr. Asher then formed Weston Inc., an industrial real estate ownership firm, which is the largest owner of industrial property in northeast Ohio.
Upon retiring in 2006, Mr. Asher transferred the company to his three sons, Edward, TJ, and James, and two daughters, Michelle and Suzanne. The company thrives under their leadership today, owning properties across the United States. Mr. Asher is also the owner of Graystone Properties, a real estate company headquartered in downtown Cleveland and operated by his daughter Michelle.
Mr. Asher serves on the Board of Directors for Third Federal Savings and Loan in Cleveland and one non-family private business. He was knighted by The Order of Saint Gregory in 2001. Mr. Asher has been honored with two very distinctive lifetime achievement awards. The first was in May of 2006 and was given by The National Association of Industrial and Office Properties for his contributions to the real estate industry. The second was from The Northern Ohio Lebanese American Association for showing exceptional commitment to the Lebanese community, and the preservation of their heritage. He is a member of The Board of Trustees of The Holy Spirit University on Beirut, Lebanon, where he and his family are establishing a center for Innovation and Entrepreneurship, and where he was given an honorary doctorate degree in 2016. He is an Honorary Life Trustee of the respected Gilmour Academy and a former president of Canterbury Golf Club, a prominent private membership club in Cleveland. He is a member of The Order of Saint Sharbel and an active member of his church, Saint Maron. Mr. Asher is also a member of The Sovereign Order of Saint John of Jerusalem.