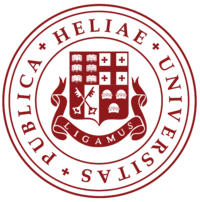 Ketevan Darakhvelidze, MA: International Educational Development at Teachers College Columbia University (NY, U.S.A., Edmund S. Muskie Graduate Fellow, 2007-2009) and M.Phil: Higher Education Administration (a joint European Master - Erasmus Mundus Action 1, 2009-2011) at University of Olso (Norway), University of Tampere (Finland), and University of Aveiro (Portugal).
Ketevan's background at the BA level includes English Language & Literature (2001-2006). She was an exchange student at various times in the United States and the EU throughout the years 2003-2004, 2007-2009, and 2009-2011. She is leading Grants and Development and Entrepreneurship Ecosystem building processes at Ilia State University as a Head of the Office of Development.
She has strong background in conducting research and education activities in higher education with several publications, including education consulting and training and evaluation activities. She also has professional experience over 8 years in leadership and professional strategic development of higher education, education project management and administration, international development and aid programs, designing and implementing grant, development and cooperation programs in the transition development context linked to higher education and knowledge production technologies with various donor communities. Her awards and achievements – scholarships and fellowships - are linked to and coming from the US Government and the European Commission.     
---
Abstract:
The Importance of University Enterprise Education (EE) in Boosting Engaged Learning in Creativity  
Physical and virtual spaces, i.e. programs and services of engaged learning in creativity (e.g. fab-labs, maker spaces, ideation labs or pre-acceleration programme efforts), can have enormous positive impact and provide a focal point for an enterprise ecosystem at universities. While these are essential, any fragmented or even coordinated actions of experiential learning distanced from the institutional Entrepreneurship Education (EE) can hardly be effective. Avoiding or limiting entrepreneurship education (EE) to a small number of entrepreneurship courses offered predominantly to business students is not an option anymore. Neither is the EE housed in only Business Schools/Programs. Physical spaces and programs of experiential learning and embedded EE are complementary with a clear nexus between them in a university setting, and the latter is crucial in enhancing any impact to actively engage students and faculty who will contribute to local innovation and economic growth. That said, diversifying EE and embedding enterprise in the curricula across subjects and the institution is a new imperative for higher education institutions in Georgia. This paper will uncover the existing state of art of physical and virtual spaces of engaged learning in creativity (entrepreneurship ecosystem), EE and relevant academic programs and the nexus between in selected Georgian Universities that has elements of Entrepreneurship Ecosystem, including at Ilia State University. Based on this scrutiny, it will offer suggestions to practitioners and decision-makers on the design and delivery of innovative curricula to ensure that EE is embedded in a university setting along with the design of extra-curricular provision, ensuring students have structured pathways to explore entrepreneurial intentions.