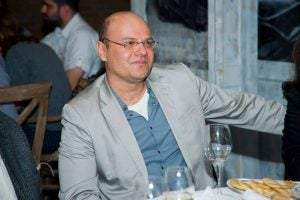 David is a strategy-oriented, high-tech entrepreneur and futurist. David co-founded 5 global startups, mostly in the fields of immersive visualization and AI. His latest startup is now a well-known brand in cinema industry. Currently David is working on his most important startup – his family. He is a husband and a father of two little girls, Mariam and Anastasia. Upon return to Georgia in 2014, David is teaching Innovation-based Entrepreneurship at Ilia State University, soon at Academy of Arts and helping with Technology Commercialization efforts. He is also a mentor at Startup Braga in Portugal and is advising several startups. In addition, he is helping GITA (Georgian Innovation and Technology Agency) and World Bank to kick-off a world-class acceleration program in Georgia.                                                                                                                     
David is passionate about technology, specifically 3D/VR/AR/XR, AI, Computer Vision and Drones. David is also an avid bridge player (played for national team of Georgia, and professionally in U.S.).
---
Abstract:
Venture Elevator Program: Elevating Georgian Startups for Investment Readiness
Georgia is a developing country and like most developing countries it is faced with a high rate of unemployment. Engaging in small scale enterprises is seen as the best way to create more jobs and thus create more employment. Starting a business requires an enterprising mind that is able to notice business opportunities and exploit them.
However, the problem in Georgia is that Entrepreneurship courses at Universities are taught by theoreticians in best case, in worst case the course is about studying biographies of famous entrepreneurs. On the other side accelerators in Georgia struggle to provide service that is necessary for startups. Lack of experienced entrepreneurs translates to lack of experienced mentors, and investors.
We decided to offer a special intradisciplinary course that will be a hybrid between very practical, hands on entrepreneurship course and accelerator program (minus investment part).  This course will start with building entrepreneurial mindset of participants.
Since start-ups are not small versions of big companies, a different approach is required to develop a successful business. As such the main output of this course is not a business plan, but instead a set of start-up activities and an iteratively validated hypothesis to launch an innovative, globally scalable new venture.
The dual focus of this course is on:
practical entrepreneurship

experiencing entrepreneurship from a practical perspective, co-creating innovative business concepts with various stakeholders, creating, testing, iterating, pivoting, redesigning, testing, iterating

development of personal entrepreneurial skills and behavior

developing your entrepreneurial skills such as pitching, presenting, customer orientation, customer development, selling, buying, negotiating, planning and dealing with diversity and internationalization.
The course is being led by four experienced entrepreneurs with international experience, and at least 6 more experienced entrepreneurs from overseas are being flown to Georgia to provide mentorship and investment readiness assistance.