About the Ohio Export Internship Program: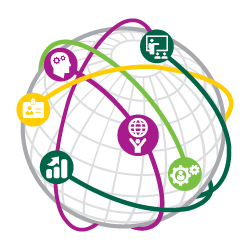 Did you know that the State of Ohio has an internship program designed to help pair talented and motivated international business students with small to medium-sized enterprises (SMEs) looking for additional manpower to assist with their global initiatives? The Ohio Export Internship Program, which started in 2012, is a partnership between the State of Ohio, Cleveland State University (CSU), Ohio State University and Youngstown State University. 
The program is a win/win for both the students and the companies. The student interns first complete an academic course that specializes in exporting and then gain valuable, real world experience working with companies dedicated to pursuing foreign markets. The Ohio SME gets a highly trained and well-supported student intern that might have been otherwise difficult to attract.  
Ohio Export Internship Program Results 2012 to 2018:
 
Learn more about how the Ohio Export Internship program is making an impact in the PDF file located here. 
Summer 2018 marked the first year that Cleveland State was a host university for the program. Six Cleveland State students were chosen for internships.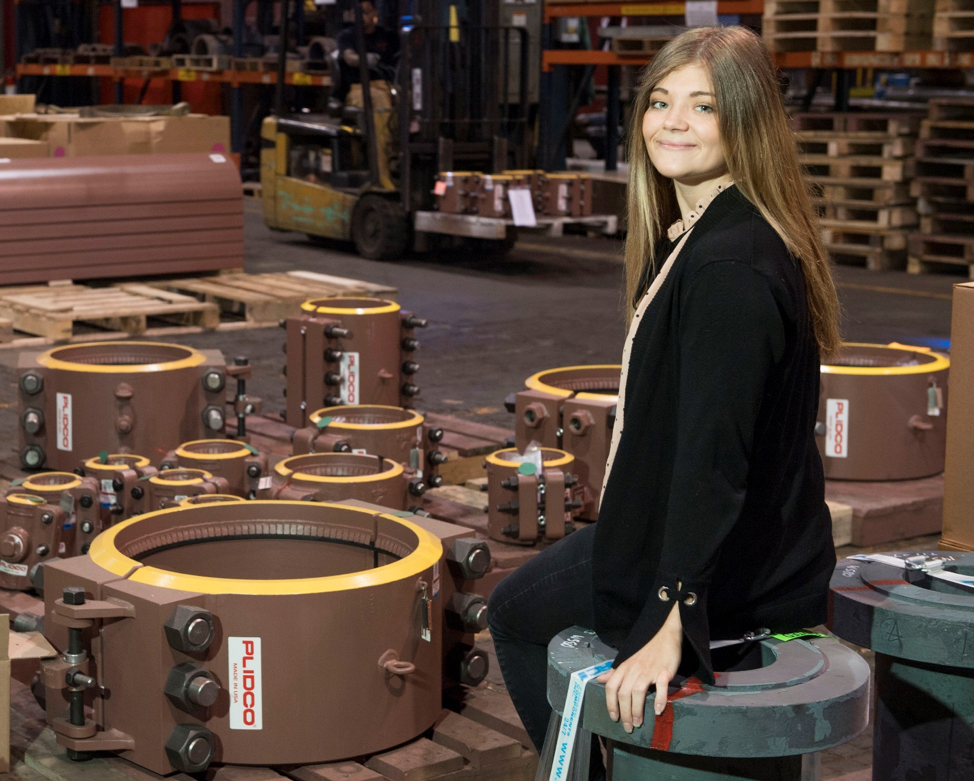 Morgan Sas, a dual International Business and Marketing major at CSU, was one of the 6 interns in the program last year. As we prepare to match students with companies for Summer 2019, the Global Business Center recently caught up with Morgan to get her perspective on her experience as an Ohio Export Intern with The Pipe Line Development Company (PLIDCO), a manufacturer of emergency pipeline repair and maintenance fitting products with approximately 100 employees.
Morgan, who describes herself as "very adaptable, fast-paced, and a quick learner," admits that before starting her internship, she was not familiar with the company or industry. She credits the required academic course that interns are required to take the semester prior to participating in the internship as being instrumental in her ability to make an impact in the company. 

"I had the pleasure of taking a class (INB 493 "Building Global Businesses") that prepared me for real world experiences and valuable insights on how an international business operates," Morgan said. "Rather than focus on business theory, this course teaches more applied concepts such as navigating harmonized tariff codes and conducting international market research."
Why an Ohio Export Intern?
Elaine Maruca, PLIDCO's Marketing/Sales Operations Coordinator, was Morgan's supervisor. She explained that PLIDCO wanted to take on an Ohio Export Intern to help with their trade compliance program and to provide additional support with the company's exports. Elaine had a positive experience hosting an Ohio Export Intern in 2017, which led the company to apply for one again in 2018. 

"The interns from this program are very well prepared," Elaine explained. "They have a solid work ethic and are self-starters. They are willing to jump in and help with projects in multiple departments and take constructive criticism well." 
What kind of projects was Morgan involved with in her internship?
Her primary responsibilities included AES/EEI filings, ensuring representatives and agents were in compliance with the Foreign Corrupt Practices Act, indexing export sales quotes and conducting research on competitors. Morgan also has a marketing background and was able to help with updating the company's blog, social media accounts and website.  
This internship was the first in Morgan's career, and the impact that it has had is apparent. "This internship has opened my eyes up to see that there are many opportunities out there [globally] and PLIDCO has helped me discover my passions for this field," said Morgan. 
Perhaps the greatest proof of the value that Morgan added to PLIDCO during her internship is the fact that upon its completion, she was offered an internship extension and remains employed part-time at the company while she completes her degree. PLIDCO also hired Morgan's sister, Camille, who was also an alumna of the Ohio Export Internship program. 
Advice for companies on the fence about hosting an intern for summer 2019: 
"I really don't think you can go wrong by hiring someone from this program," Elaine explained. "The one thing that companies should be sure of is that they have meaningful projects for the student. As wonderful as it is to have their help, the intention to teach also has to be there." 
Interested in Hosting an Ohio Export Intern?
Applications for the Ohio Export Internship Program are open for companies interested in hosting an Export Intern in Summer 2019. The application deadline for interested companies is February 1st, 2019. The State of Ohio requires that participating companies pay the interns, however the State reimburses half of the intern's wages at the end of the summer.
Companies that are interested in hosting an intern should apply, or direct any questions to the Global Business Center by calling us at 216-802-3381. We would be happy to help you determine if an export intern is a right fit for your company.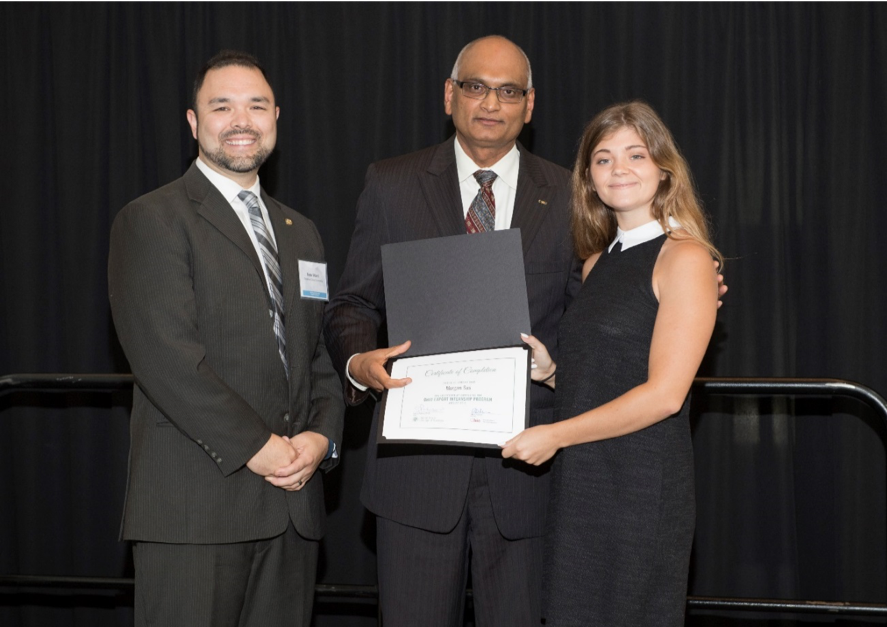 Pictured above from left to right: Nate Ward, Director of the Global Business Center; Sanjay Putrevu, Dean of the Monte Ahuja College of Business and Morgan Sas. Photo taken at the Ohio Export Internship Celebration in August 2018.