Every CSU student has a dream.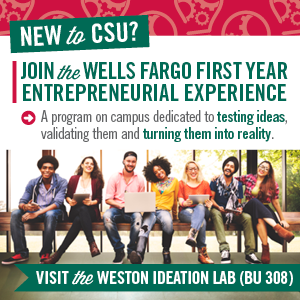 Did you know that there is a program on campus dedicated to testing ideas, validating them and turning them into reality?
Visit the Weston Ideation Lab (BU 308) and join the Wells Fargo First Year Entrepreneurial Experience. You will:
Meet other CSU Students and dedicated mentors
Learn about internship opportunities with local startups and small businesses
Win a seat to CSU's Startup Weekend - Startup Vikes (February 21-23, 2020)
Meet students and alumni transforming their entrepreneurial dreams into reality
Win prize money for participating in entrepreneurship challenges
All sessions held are from 11:30 AM to 12:30 PM in BU 308.
2019-2020 Session Dates:
October 10th, 11th or 17th
November 14th, 21st or 22nd
March 26th or 27th
April 23rd or 24th