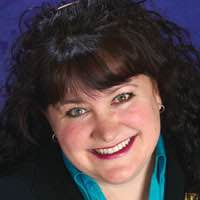 Toni Paoletta is currently a Lecturer in the Department of Marketing. Previously, she was the Director of the Professional Development Center within the Monte Ahuja College of Business at Cleveland State University. The Center offers continuing education, professional development, executive education and custom corporate training for Northeast Ohio businesses and organizations.  
Prior to working at Cleveland State, Toni worked as the Executive Director of Information Technology Training for Cuyahoga Community College. For more than 20 years she has worked for clients in technology, industry, academia, non-profit and economic development on a variety of issues focusing on adult learning and development, growth and innovation, strategy and leadership development. 
Toni received her Master's degree in Adult Education from Cleveland State University and is currently a Ph.D. candidate in Adult Education at Cleveland State University. Toni serves as the President of the Ohio Continuing and Higher Education Association (OCHEA) and was recently awarded their Program Excellence Award for the Monte Ahuja Leadership Excellence Program she designed in 2014. She is a member of the Mandel School of Leadership class of 2012 and the YWCA Women in Leadership class of 2007.
Toni has taught a range of technology and business courses throughout the years including most recently Developing Individuals and Teams, Powerful Presentations and Effective Business Communication for Cleveland State University's College of Business and continues to teach today.  With her contagious enthusiasm and knack for making the complicated simple, Toni strives to design professional development programs that working professionals need to remain competitive in today's rapidly changing business climate.